IPR easily – Formalities (part 5)
–
News
–
30.5.2023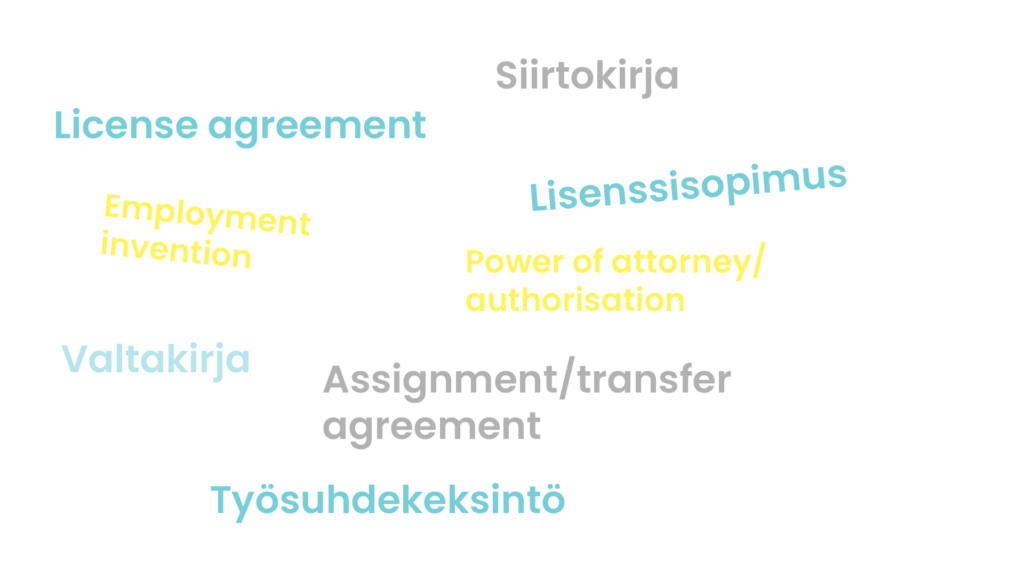 In this part of our series "IPR easily" we will learn about different formalities relating to patent, trademark, design and utility model applications.
Assignment/transfer agreement
A document in which the owner of the right transfers the right to another party. For example, an inventor may transfer the right (i.e. ownership) of the invention to the applicant, or a company may transfer a trademark to another company. For transfers between companies, a transfer agreement is often signed in addition to a sales contract, so that the sales contract does not need to be filed at an office.
Employment invention
In some countries, like in Finland, the employer has the right to inventions made by their employees, against a reasonable compensation. If the employment invention law (or for example a research contract) does not apply to the inventor, the inventor is free to do whatever they want with the invention.
License agreement
An agreement between the owner of a right (licensor) and a licensee, giving the licensee the right to use the registered right (patent, trademark, design, utility model). Often a license agreement also covers transfer of for example knowhow. A license agreement may be limited to a geographical area, and it may be exclusive (i.e. the licensee is the only one who can use the right) or non-exclusive (in which case the licensor can give rights also to others).
Power of attorney/authorisation
A document by which the applicant authorises the attorney or agent to act on their behalf towards the office. The attorney thus handles all correspondence with the office.